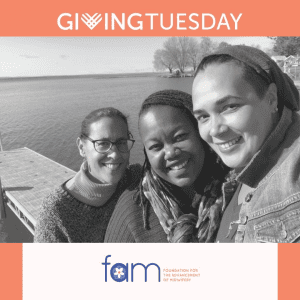 Did you know that less than 5% of established birth centers in the U.S. are led by people of color?
With 7 days away until #GivingTuesday on December 1st, we are pleased to introduce you to Birth Center Equity, one of our 9 grantees this year. Birth Center Equity was created to make birth center care an option for every person who wants it, by growing and sustaining birth centers led by Black, Indigenous, and other people of color. 100% of funds raised go to BIPOC birth centers. Their mission is, "Growing vibrant and abundant community birth infrastructure for generations to come!"  Including funds granted from FAM, Birth Center Equity is super excited to be able to direct $250,000 to 25 BIPOC community birth centers this #GivingTuesday! Funds will support general operations, staffing, easy access perinatal support, continued expense of PPE, and capital campaign development. Birth Center Equity has also challenged the birth centers to plan matching dollar campaigns, so that a half million dollars moves to BIPOC birth centers before the end of the year!
The Birth Center Equity strategy includes a Community of Practice comprised of BIPOC birth center leaders (at any phase in their development), capital support, and an accelerator—called BCE Catalyst—available for a small number of birth center leaders to design and implement an advanced, intensive full spectrum capital strategy. We'd like to shout-out midwife Jennie Joseph who is the first BCE Catalyst participant!
We are BLOWN. AWAY. by the amazing work and strategy behind Birth Center Equity. Cheers to BCE!
Find Birth Center Equity online at: www.birthcenterequityfund.orgKeep checking back daily as we feature more grantees leading up to #GivingTuesday. Help us spread the word by posting content from our #GivingTuesday Toolkit here: https://bit.ly/3pSAFJs. Feel free to personalize and share with your circle. Also, you can help us deliver more grants by donating here: https://bit.ly/3kATixF. #Give4Midwifery #formidwifery