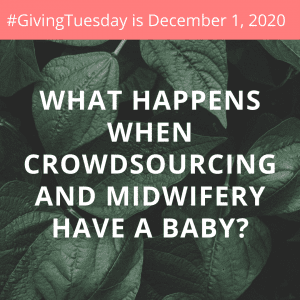 What would happen if crowdsourcing and midwifery had a baby during the pandemic? The result would be Where's My Midwife?, a community mapping project linking midwives trained in out-of-hospital birth with people whose babies may need to be born in out-of-hospital settings during the COVID-19 pandemic.
We are now five days away from #GivingTuesday, a global day of fundraising on December 1st. FAM is taking a moment leading up to #GivingTuesday to highlight this year's grantees and their important work like the Where's My Midwife? crowdmap.
Launched by The Big Push for Midwives Campaign, the crowdmap provides visibility on where out-of-hospital midwifery care may be available to pregnant people. Deborah Fisch, a long-time leader of The Big Push for Midwives Campaign, brainstormed the idea of a "landing page of landing pages for home birth during this pandemic.
"The Big Push for Midwives Campaign is pushing to bring Certified Professional Midwives (CPMs) out from underground economies and fully integrate them into the Reproductive, Maternal, Newborn and Child Health (RMNCH) Continuum of Care in all U.S. states and territories.
Midwives are invited to submit a report to show their location in the PushNation, describe their credentials, license status, and the cities and counties they serve, as well as share their contact information and other helpful information.
Pregnant people can review the map to see midwives near them. Only healthy, low-risk pregnancies are candidates for out-of-hospital birth with midwives who still have capacity to provide maternity care in private homes and freestanding birth centers.
If you're a midwife, we encourage you to submit a report; and, if you're a birthing person considering out-of-hospital care, please visit: https://wheresmymidwife.ushahidi.io.Way to go 
, to The Big Push for Midwives Campaign for executing such an innovative idea during such challenging times where many are contemplating their full range of birth options.
Check back as we continue our countdown to #GivingTuesday on December 1st. We've set a goal of raising $20,000 during this campaign to be able to deliver more grants to organizations to advance midwifery in North America. You can help us out by signing up to run your own fundraiser for us and donate here: https://bit.ly/3kATixF. #Give4Midwifery