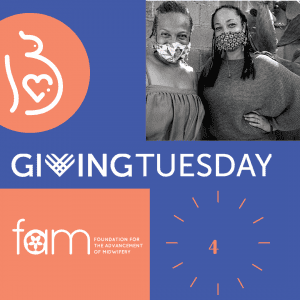 We're getting close… only 4 days left until #GivingTuesday! Today, we'd like to promote the work of the Birthing People Foundation, a FAM Community Movement Builder.
Birthing People Foundation empowers women of color/people of color by providing free and low-cost training, education and certification pertaining to pregnancy, birth and postpartum, including but not limited to doulas, childbirth educators, lactation consultants, birth assistants and midwives.
We hear the daunting statistics often, but it bears repeating: Black women are 3 to 4 times more likely to die from pregnancy or childbirth than white women; and black infant mortality is twice as high as white infant mortality. The foundation's offerings were designed to address these maternal and infant health disparities in communities of color and other marginalized communities around the world.
Birthing People Foundation is led by Los Angelenos Kimberly Durdin and Allegra Hill, tag team birther workers and postpartum specialists bound in sisterhood to support the many transitions of parenthood. Please join us in congratulating the duo for all their success. 
 While you're at it, we encourage you to take a look around their beautiful site to learn more about their mission: https://www.kindredspacela.com/birthing-people
Keep checking back daily for the next 3 days as we feature more grantees leading up to #GivingTuesday. Help us spread the word by posting content from our #GivingTuesday Toolkit here: https://bit.ly/3pSAFJs. Feel free to personalize and share with your circle. Of course, you can help us deliver more grants by donating here: https://bit.ly/3kATixF. #Give4Midwifery #formidwifery
P.S. Join us on December 1st for an #askamidwife Twitter Chat from 12 – 1 p.m. ET/ 9 – 10 a.m. PT. If you're a midwife, we welcome you to contribute by answering tweeted questions. No sign up required: https://twitter.com/FAMBirthTrust