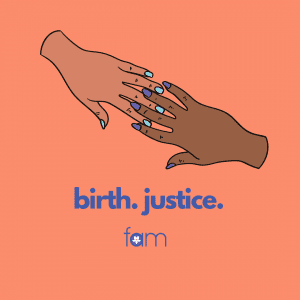 Hey 
 there, we hope you're enjoying our feature series, where we've been highlighting the work of all 9 of our grantees leading up to #GivingTuesday on December 1st.Next up, with 3 days away from our big day of giving is Elephant Circle. Inspired by elephants who give birth within a circle of support, Elephant Circle's vision is of a world where all people have a circle of support for the entire perinatal period. This vision is pursued through the lens of birth justice.
This year, we read several stories about the criminalization of the American midwife. This news isn't new, but Elephant Circle is standing with midwives and birthing persons "by supporting attorneys with training, networking and financial resources to increase health system accountability and equity."
FAM is proud to support the initial funding for Elephant Circle's initiative: Defense of Midwives. This project will increase capacity among underrepresented attorneys to bring cases for redress of harms during the perinatal period, including the defense of midwives.
Elephant Circle operates with the principle that birth justice isn't achieved until "everyone is equally capable of self-determination during the perinatal period, when their self-determination is supported and amplified.
"We 
 Elephant Circle's approach to achieving birth justice: strategies for tackling systems of power and oppression, strategies for change and resilience, and expertise in health systems, legal systems and the perinatal period. Visit Elephant Circle's site to learn more: www.elephantcircle.net.
Wondering how you can help us out? Download our toolkit for ways to support us on #GivngTuesday: https://bit.ly/3pSAFJs; and of course, you can donate here: https://bit.ly/3kATixF. #Give4Midwifery #formidwifery