This year, the Foundation for the Advancement of Midwifery has coined the metaphor "Nurturing The Soil of Midwifery" to encapsulate our vision for supporting and uplifting the advancement of midwifery.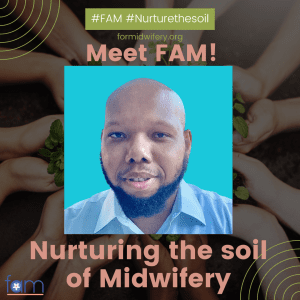 Envisioning a towering tree that has grown to great heights, we must acknowledge that the tree is only standing because of the
#strength
of its
#roots
. We rarely see the roots, as they are usually hidden deep within the soil. I think of the early midwives, like my great aunt, Lena Gainor Bullock, who paved the way for our midwives today. They need
#acknowledgment
, for they are the roots that run deep to keep the tree of midwifery standing steady. When I think of the soil that surrounds a tree, I understand the nutrition of the tree only comes from the soil in which it has grown. As a certified birth and postpartum doula, I nurture the soil of midwifery by
#honoring
the role of a midwife and regularly reflecting on their
#legacy
.
~ Peter "Kofi" Bullock, FAM Board of Directors
Get to know our board and
DONATE
today!